Solfeggettio by Carl Philipp Emanuel Bach (1714-1788)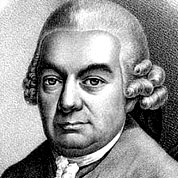 Carl Philipp Emanuel Bach was a German Classical period musician and composer, the fifth child and second (surviving) son of Johann Sebastian Bach and Maria Barbara Bach. He was a crucial composer in the transition between the Baroque and Classical periods, and one of the founders of the Classical style, composing in the Rococo and Classical periods. His second name was given in honor of his godfather Georg Philipp Telemann, a friend of Emanuel's father.





Notes
Modern. 34 Measures. 6 pages. 4/4 Time Signature. Drop D. Arranged by Stefan Apke. Prestissimo. Original in C minor.
Guitar Pro Playthrough