Sleepers Awake (BWV645) by Johann Sebastian Bach (1685-1750)
BWV 645 – 650: Schübler Chorale Preludes.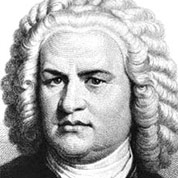 Johann Sebastian Bach was a German composer, organist, harpsichordist, violist, and violinist whose sacred and secular works for choir, orchestra, and solo instruments drew together the strands of the Baroque period and brought it to its ultimate maturity.



Notes
Schübler Chorales is a name commonly used for a collection of six chorale preludes by Johann Sebastian Bach (BWV 645–650). They were engraved and published in the late 1740s by Johann Georg Schübler, from whom they derive their nickname. The collection is originally entitled Wachet auf, ruft uns die Stimme ("Wake, Awake for Night is Passing"). Uniquely for Bach's sets of organ works, five out of six chorales in this collection are transcriptions from his cantatas. BWV 645 is transcribe from: Wachet auf, ruft uns die Stimme, BWV 140, movement 4 (tenor chorale). The pieces are composed for a two manual organ with obligatory pedal in E♭ Major. Bach's abilities as an organist were highly respected throughout Europe during his lifetime. Sleepers Awake tab is transcribed to the key of C making it easier to play on the guitar. This piece is played with many open strings reducing the need for barred chords.
Sleepers Awake is from Cantanta No.140 Ephesians No.5(14)
4/4 Time Signature
C Key Signature
Originally for Organ in Eb Major
Suspend notes as long as possible. Bach uses conterpoints. 2 voices-treble and bass. The 2 voices should be unbroken throughout the song. Play slowly. Add trill at the end of the 2 parts.
Bar[12] Ending of part 1. Series of semiquavers double stops(2 notes).
Bar[20] Only measure with barred chords. A pair of them on fret 3. You don't necessaily need to barre (2 notes) but I find it easier to barre to sound the bass note.
Bar[23] Hinged Barre chord. Flatten index to rapidly barred the string below (treble e).
Bar[24] Ending of part 2. Series of semiquavers double stops(2 notes).