Sarabande (BWV995) by Johann Sebastian Bach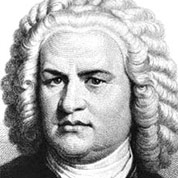 Johann Sebastian Bach was a German composer, organist, harpsichordist, violist, and violinist whose sacred and secular works for choir, orchestra, and solo instruments drew together the strands of the Baroque period and brought it to its ultimate maturity.



Notes
Sarabande (BWV995) is rather dark and mysterious and unlike bach's signature sound. BWV 995 is accepted as his arrangement and not the work of a copyist. A few of Bach songs like the ones in the notebook of anna magdalena are attributed to other composers.
AABB. 20 bars totals. Play Sarabade (BWV995) Slow.
Bar [6] has a full barre chord plus Pinky hinge Barre. Use your pinky and flatten the tip joint of your pinky finger.
Bar[17] and [18] Hardest measures fo me, keep the finger moving during these measures.
On slow songs that are sparse in texture, bass notes must be held as long as possible. Every measure has at least one bass note suspended. So suspend them notes! Sarabande is left hand dominant so pay careful attention to the finger.
Bwv995 is a fairly simple song once you have learnt the finger positions. This song is quite dissonant (borderline in tune). Take care not to hit the wrong note because it will really sound bad-no pressure. : )