Salt Creek by Tony Rice (1951-)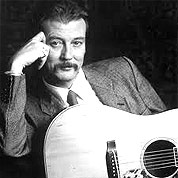 Tony Rice is an American acoustic guitarist and bluegrass musician. He is considered one of the most influential acoustic guitar players in bluegrass, progressive bluegrass, newgrass and acoustic jazz. Rice spans the range of acoustic music, from traditional bluegrass to jazz-influenced New Acoustic music, to songwriter-oriented folk.



Notes
20th century. Fingerstyle. Acoustic. 69 Measures. 4 Pages. Time Signature 4/4. Duet with doc watson.