The Old Lime Tree by Sergey Rudnev (1955)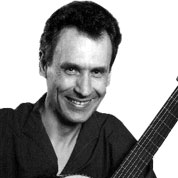 Russian guitarist and composer Sergey Ivanovich Rudnev was born in 1955 in Tula. The Old Lime Tree "Lipa Vekovaya" is a Russian Folklore song. In 2015 Sergey Rudnev was named a Russian 'National Treasure', and numerous publications on his life and work hail Rudnev as 'the soul' of Russian guitar, a legend, a multi-instrumentalist and one-of-a-kind researcher.




Notes
21 century. 3 pages. 82 bars. 3/4 time signature. Key of D. The piece is beautiful and has many techniques. Bar 85 – 116 are accelerated triplets. Bar 121-128 uses a Rasgueado played with the flesh of the index finger-I have never seen before!
Guitar Demo (Bryan Fasola)
Guitar Pro Playthrough