Rosita by Francisco Tarrega (1852-1909)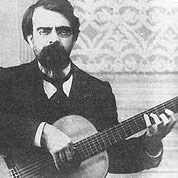 Tárrega is considered to have laid the foundations for 20th century classical guitar and for increasing interest in the guitar as a recital instrument. Tárrega preferred small intimate performances over the concert stage. Some believe this was because he played without the nails needed for volume. Others say this was related to his childhood trauma.




Notes
The polka is a lively Central European dance and also a genre of dance music familiar throughout Europe and the Americas. Polka is a Czech dance originating in the middle of the 19th century. Tarrega composed songs for many different dance forms like tango, mazurka and polka. Rosita is not a long piece, it comes in 3 parts with 2 key signature changes. Majority is in D major while the final part is in G major.
Time Signature 2/4. 3 parts. Part A and B: Key Signature in D major . Part C: Key Signature in G Major
Bar[5] chord. 1 Harmonic plus 2 notes. Never seen this before. typically its either notes or harmonic. not both together. tarrega's the man!
Bar[21] If you have a cutaway classical, its a good time to try it out.
Bar[24] Trio of Barred Chords with double stops.
Guitar Demo (Patrik Kleemola)
Guitar Pro Playthrough