Ragged Nail by Adrian Legg (1948-)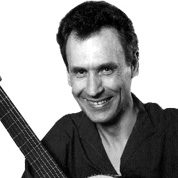 Adrian Legg is an English guitar player who has been called "impossible to categorize". He plays custom guitars that are a hybrid of electric and acoustic, and his fingerstyle picking technique has been acknowledged by the readers of Guitar Player who voted Legg the "best acoustic fingerstyle" player four years in a row (1993–1996).


Notes
20th century. Fingerstyle. Acoustic. 191 Measures. 11 Pages. Time Signature 2/4. key of g.