Rafaga by Joaquín Turina (1882-1949)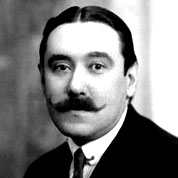 Joaquín Turina was a Spanish composer of classical music.Turina was born in Seville but his origins were in northern Italy (between Verona, Brescia and Mantova). Joaquín Turina helped to promote the national character of 20th-century Spanish music.




Notes
20th century. Spain. 142 measures. 4/4 time signature. 6 pages. Rasgueado. Andante. Arranged by Andres Segovia
Guitar Demo (Grigor Ylli)
Guitar Pro Playthrough


Turina (1882-1949) wrote his third guitar work entitled Ráfaga without the participation of Segovia. This 1929 work opens with a signature Andalusian chord sequence, evolving into a smooth melody which is soon replaced by a dance pattern that suddenly breaks off at the end of the piece.