Prelude and Allegro by Santiago de Murcia (1673–1739)
Level Beginner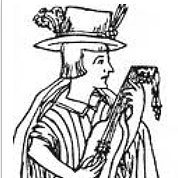 Until new research was published in 2008, few details about the life of Santiago de Murcia were known. One of the important aspects of the music of Murcia is his interest in a wide range of pre-existing music for guitar, including that by Spanish, French and Italian composers, and in popular dance forms which probably originated in Africa (rather than Mexico).


Notes
81 Measures. 5 Pages. 4/4 Time Signature. Key of D minor. Some Barre Chords. Easy Guitar Piece.