Opus 9 No 2 Nocturne by Frederic Chopin (1810-1849)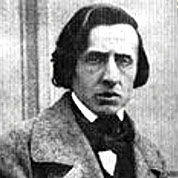 Frédéric François Chopin was a Polish composer, virtuoso pianist, and music teacher of French–Polish parentage. A great masters of Romantic music and has been called "the poet of the piano". He supported himself as a composer and piano teacher, giving few public performances. For most of his life, Chopin suffered from poor health; he died in Paris in 1849 at the age of 39.




Notes
Romantic Era. 43 Measures. 10 Pages. Time Signature 12/8. Key of E. Transcribed by K. Minami
The nocturne is reflective in mood until it suddenly becomes passionate near the end. The new concluding melody begins softly but then ascends to a high register and is played forcefully in octaves, eventually reaching the loudest part of the piece, marked fortissimo. After a trill-like passage, the excitement subsides; the nocturne ends calmly.
Guitar Demo (Marcelino Ponty)
Guitar Pro Playthrough