Opus 6 No 4 Mazurka by Frederic Chopin (1810-1849)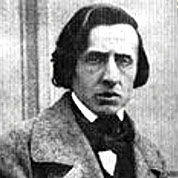 Frédéric François Chopin was a Polish composer, virtuoso pianist, and music teacher of French–Polish parentage. A great masters of Romantic music and has been called "the poet of the piano". He supported himself as a composer and piano teacher, giving few public performances. For most of his life, Chopin suffered from poor health; he died in Paris in 1849 at the age of 39.


Notes
Brief and catchy, this apparent trifle has some lovely voice-leading subtleties which are given careful attention in the fingering. The occassional slight stretch of the left hand is worth the momentary effort for the resultant legato.
Romantic Era. 25 Measures. 3 Pages. Time Signature 3/4. key of E minor. Presto ma non troppo. Mazurka. Originally in Eb Major. Arr Stephen Aron.