Opus 6 No 1 Mazurka by Frederic Chopin (1810-1849)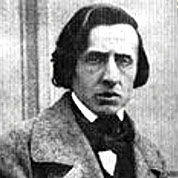 Frédéric François Chopin was a Polish composer, virtuoso pianist, and music teacher of French–Polish parentage. A great masters of Romantic music and has been called "the poet of the piano". He supported himself as a composer and piano teacher, giving few public performances. For most of his life, Chopin suffered from poor health; he died in Paris in 1849 at the age of 39.



Notes
The A section requires careful traing of the left hand to enable correct note durations. Rapid, large shifts and high position playing in the remaining two sections contribute to the sense of diffciulty. Take special care to identify the spots for the high-D harmonic and the high-A harmonic, in measures 45 and 47, to ensure success in the climactic C section. Once rehearsed, it is remarkably effective.
Romantic Era. 74 Measures. 7 Pages. Time Signature 3/4. key of D minor. Drop D. Mazurka. Arr Stephen Aron.