Opus 45 Petite Piece in A Major by Fernando Sor (1778-1839)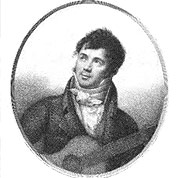 Fernando Sor was a Spanish classical guitarist and composer. He is best known for his guitar compositions, but he also composed music for opera and ballet, earning acclaim for his ballet titled Cendrillon. Sor's works for guitar range from pieces for advanced players, such as Variations on a Theme of Mozart, to beginner pieces.



Notes
Sor's Opus 45, No 5 is another "Small Piece" that betrays its name. However, the repetitions in this Piece are often varied, creating unexpected yet pleasant surprises for both the player and the listener. The most common technique of variation in this Piece is through a method of embellishment called "diminution," wherein the composer modifies the pre-existing melody by inserting notes of smaller (diminished) durations. A striking example is measure 75 (a recomposition of measure 19). Here Sor replaces the eighth notes of the melody with an entire measure of thirty-second notes. (Notice, though, that Sor compensates for this increased melodic activity by reducing the number of notes in the accompaniment.)
In order to give the Piece more shape, perform the middle section (measure 33-64) with a contrasting character. This section, in the parallel minor, would sound appropriate with a warm, dark tone color
Classical Era. 94 Measures. 8 Pages. Time Signature 2/4. Key of A-Am-A.