Opus 45 No 21 Petite Piece in A Major by Fernando Sor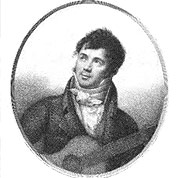 Fernando Sor was a Spanish classical guitarist and composer. He is best known for his guitar compositions, but he also composed music for opera and ballet, earning acclaim for his ballet titled Cendrillon. Sor's works for guitar range from pieces for advanced players, such as Variations on a Theme of Mozart, to beginner pieces.



Notes
24 Measures. 2 Pages. 3/4 Time Signature. Key of A Major. 5 Barre Chords. Triplets. Andante.
This Petite Piece ("Small Piece") belies its name. Because of its name. Because of its many repeats, this Piece actually takes quite a long time to perform. Perhaps the title is meant to refer to the actual amount of "new" material the guitarist encounters. The Piece contains many sumptously voiced harmonies (especially in the first few measures), so be sure to play with a full, warm tone and with lots of vibrato. In the middle section, many of the notes are played on the open first and second strings. Be especially careful to play these notes with plenty of warmth, to compensate for the characteristically dead sound of the open string.