Opus 43 No 5 (Bagatelle in D Minor) by Fernando Sor (1778-1839)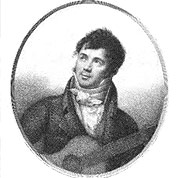 Fernando Sor (1778-1839) was a Spanish classical guitarist and composer. He is best known for his guitar compositions, but he also composed music for opera and ballet, earning acclaim for his ballet titled Cendrillon. Sor's works for guitar range from pieces for advanced players, such as Variations on a Theme of Mozart, to beginner pieces.




Notes
Many of Sor's character pieces seem to have been directed towards public consumption. The title of Opus 45 set "Mes Ennuis" ("My Boredoms"), and title "Bagatelle" (literally, a "trifle") perfectly suggest the mood of a nineteenth-century middle-class Parisian debutante. The Bagatelle would be sure to offer a pleasant musical diversion to anyone's day.
The Fingerings are ever-so-slightly unconventional, but still quite manageable. In the first half of the Bagatelle (measure 1-16), be sure to play the chords with a full tone, digging the flesh of the fingertip into the string as far as possible. In the second half (measure 17 to end), bring out the melody hidden in the arpeggiations (indicated with upstems). A good way to do this to play the melody notes with rest strokes.
Classical Era. 54 Measures. 4 Pages. 2/4 Time Signature. Part 1 and 2 Key of D Minor. Part 3 and 4 Key D Major deals with plucking arpeggios. Drop D Tuning.
Guitar Demo (Liza Karpenko)
Guitar Pro Playthrough