Opus 21 Fantasia in E Minor ("Les Adieux") by Fernando Sor (1685-1739)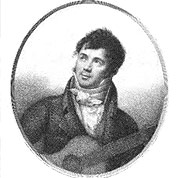 Fernando Sor was a Spanish classical guitarist and composer. He is best known for his guitar compositions, but he also composed music for opera and ballet, earning acclaim for his ballet titled Cendrillon. Sor's works for guitar range from pieces for advanced players, such as Variations on a Theme of Mozart, to beginner pieces.



Notes
Although Francois Joseph Fetis's description of Fernando Sor as "the Beethoven of the guitar" is neither accurate nor appropriate, there is one indisputable similarity between the two composers: they both composed a substantial work with the title "Les Adieux". Beethoven completed his Sonata for Piano No 26 in E flat, Opus 81a ("Les Adieux") in 1810; Sor's Fantasia in E Minor, Opus 21 ("Les Adieux") was first published a few years later, in 1825. While Sor's music never exhibits a Romantic sensibilty to the same degree as Beethoven's music does. Sor's Fantasia does contain quite a bit of introspection, pathos and musical drama. In fact, the only thing that seems to be denying the Fantasia a Beethoven-like status is its relatively small scope. No sooner is the mood of the first half of the piece established when it quickly dwindles away and gives way to the second half. (This isn't to suggest Sor was incapable of producing large-scale works. One only need to look to his two Guitar Sonatas, Opp.22 and 25, to find full-blown multi-movemented works.)
Be sure to provide the Fantasia with a wide range of contrasts, especially in terms of dynamics and tone colors. Keep the tempo of the second half, "Un Poco mosso", rather fast. The Fantasia's textures are quite active throughout; nevertheless, be sure to emphasize the melodic lines at all times.
Classical Era. 121 Measures. 11 Pages. Time Signature 4/4. Key of G.