Opus 18 No 6 Waltz in C by Fernando Sor (1778-1839)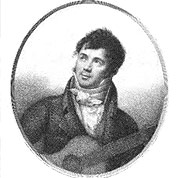 Fernando Sor was a Spanish classical guitarist and composer. He is best known for his guitar compositions, but he also composed music for opera and ballet, earning acclaim for his ballet titled Cendrillon. Sor's works for guitar range from pieces for advanced players, such as Variations on a Theme of Mozart, to beginner pieces.



Notes
This formally simple piece must have found its way into many Parisian salons in the 19th century. This Waltz echoes strains of Vienna, which in the 19th century was a major center of interest in the guitar, second only to Paris.
In measure 17-18, it would be appropraite to bring out the dissonances on the downbeat. Accent these notes slightly and give each a slight tenuto. Keep the meter of this Waltz brisk, graceful and dance-like. Keeping with 19th century music performance practice, be sure to begin the trills (measure 33-34 and 52-53) with the lower note.
65 Measures. 5 Pages. 3/8 Time Signature. Key of C . 4 Barre Chords. Triplets. Trills. Easy Guitar Piece.