Opus 15a Les Folies d'Espagn by Fernando Sor (1778-1839)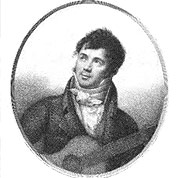 Fernando Sor was a Spanish classical guitarist and composer. He is best known for his guitar compositions, but he also composed music for opera and ballet, earning acclaim for his ballet titled Cendrillon. Sor's works for guitar range from pieces for advanced players, such as Variations on a Theme of Mozart, to beginner pieces.



Notes
The song "Folies d'Espagne" has been used as the basis for composition by countless composers before Sor, including many fellow Spanish guitarists. Traditionally, the composer use the song as the basis of a repeated harmonic ground, upon which are composed variations. Each variation exhibits different motives, textures and rhythms while remaing true to the harmonic ground.
This piece is very much in the mood of a variation form of a sixteenth-century Spanish vihuelist. The variations are continuous (there are no indicated pauses between variations), the tempo is consistent, and the stratified voices within the musical texture contains a relatively equal amount of melodic activity. Be sure to bring out any moving voices while retaining a sense of polyphony. As this piece contains many moving chords, in the manner of parallel thirds and the like, be sure to hold each chord for as long as possible and avoid a staccato-like sound.
Classical Era. 80 Measures. 5 Pages. Time Signature 3/4. Key of G.