Opus 11, No 6. Minuet in A Major by Fernando Sor (1778-1839)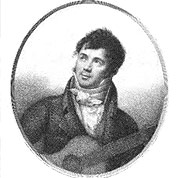 Fernando Sor was a Spanish classical guitarist and composer. He is best known for his guitar compositions, but he also composed music for opera and ballet, earning acclaim for his ballet titled Cendrillon. Sor's works for guitar range from pieces for advanced players, such as Variations on a Theme of Mozart, to beginner pieces.




Notes
This early work of Sor seems to reveal a glimpse of Sor's Spanish heritage. A passionate and fiery Iberian temperament is suggested in the juxtaposition of sudden energetic outbursts, rapidly flung arpeggios and ultra-sweet melodic turns. The Minuet contains a couple of passages that would feel quite natural on Sor's tiny guitar, but which require a bit of a left-hand stretch when played on a modern guitar. For the stretch in measure 5-6, keep the left hand as relaxed as possible. To sweeten this passage, as per it marking
of dolce, add a bit of vibrato.
Overall, keep the tempo and character energetic, but restrained. Even though there are a lot of passages with fast notes, don't let the tempo get out of hand. Play the arpeggios in measure 13-15 smoothly and evenly, with a slight crescendo towards the end. Sor's magnificent gift for melody is evident in this short Minuet. Take special care to make the melody sing as much as possible, especially when it is unaccompanied. Keep all of the grace notes and ornaments light and quick.
Notes
26 Measures. 4 Pages. Time Signature 3/4. Key of A. Demi Semi Quavers
Guitar Demo (Pavel Steidl)
Guitar Pro Playthrough