Opus 10 No 10 by Matteo Carcassi (1792-1853)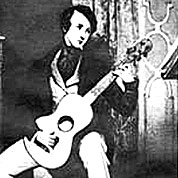 Matteo Carcassi was a famous Italian guitarist and composer. Carcassi began with the piano, but learned guitar when still a child. He quickly gained a reputation as a virtuoso concert guitarist. Carcassi wrote a method for guitar (op. 59) that remains valuable, relevant and interesting, blending technical skills and brilliant romantic music.



Notes
Classical Era. No 10 of 12 Morceaux Faciles. Easy Solo Guitar. Waltz. 3/8 Time Signature. Key of A minor/A. 2 Pages. 32 Measures.