Ode to Joy (chords) by Ludwig van Beethoven (1770-1827)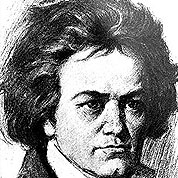 Ludwig van Beethoven was a German composer and pianist. The crucial figure in the transition between the Classical and Romantic eras in Western art music, he remains one of the most famous and influential composers of all time.



Notes
"Ode to Joy" was written in 1785 by the German poet, playwright and historian Friedrich Schiller, celebrating the brotherhood and unity of all mankind. It is best known for its musical setting by Ludwig van Beethoven in the final movement of his Ninth Symphony (completed in 1824), a choral symphony for orchestra, four solo voices and choir.
16 Measures/ Key of D. 4/4 Time Signature. Block Chords. Easy Guitar Piece. Some Barre Chords. I have another version of Ode to Joy (Arpeggios)