O Mio Babbino Caro by Giacomo Puccini (1858-1924)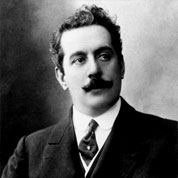 Giacomo Puccini was an Italian composer whose operas, including La bohème, Tosca, Madama Butterfly, and Turandot, are among the most frequently performed in the standard repertoire. Some of his arias, such as "O mio babbino caro" from Gianni Schicchi, "Che gelida manina" from La bohème, and "Nessun dorma" from Turandot, have become part of popular culture.


Notes
Opera. Standard tuning. 26 Measures. 3 Pages. Time Signature 6/8. Arranged by John Rethorst
This wonderful aria. O Mio Babbino Caro, was written by Puccini as part of Gianni Schicchi, in turn part of Il Trittico, or triptych; three one-act operas often performed together because of their brevity. The comic libretto is taken from Dante's Inferno, and concerns a nefarious, hilarious attempt that relatives of a dying man make to alter his will. The aria is sung by a beautiful young woman who wants to marry the love of her life, and implores her father to help.
The three operas were first performed at the Met in 1918, and were greeted with spectacular applause. In particular, the audience demanded that this aria be repeated before the opera could continue.
For this arrangement for classical guitar, the original key of A Flat was transposed to C. The accompaniment was taken from the harp part, which so felicitously follows the soprano in the opera, plus a little from the strings. All performance indications match the original.