Mrs. Nichol's Alman by John Dowland (1563-1626)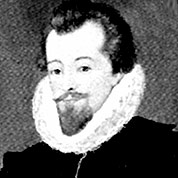 John Dowland was an English Renaissance composer, lutenist, and singer. He is best known today for his melancholy songs such as "Come, heavy sleep", "Come again", "Flow my tears", "I saw my Lady weepe" and "In darkness let me dwell", but his instrumental music has undergone a major revival, and with the 20th century's early music revival, has been a continuing source of repertoire for lutenists and classical guitarists.


Notes
This little piece exists also as an ensemble arrangement under the title Mistresse Nichol's Alman in Dowland's collection Lacrimae or Seven Teares for lute and viola da gamba consort. (The viola da gamba was a family of bowed, fretted six string instruments popular from the 15th -18th centuries called viols. A consort is a group of instruments.)
12 Measures. in the key of E major. Some barre chords. There are frequent changes of left hand positions in this dance music. Practice them as slowly and smoothly as possible. To play the open E in the last measure, simply tilt the bar off of the 1st string for the note.