Morente by Vicente Amigo (1967-)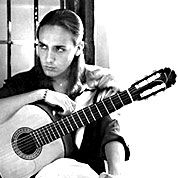 Vicente Amigo Girol is a Spanish flamenco composer and virtuoso guitarist, born in Guadalcanal, near Seville. He has played as backing guitarist on recordings by flamenco singers El Pele, Camarón de la Isla, Vicente Soto, Luis de Córdoba and the rociero band Salmarina, and he has acted as a producer for Remedios Amaya and José Mercé.



Notes
Flamenco. 96 bars. 10 pages. Time Signature 4/4. Capo 1.