Moonlight Sonata by Ludwig van Beethoven (1770-1827)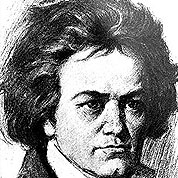 Ludwig van Beethoven was a German composer and pianist. The crucial figure in the transition between the Classical and Romantic eras in Western art music, he remains one of the most famous and influential composers of all time.



Notes
The Piano Sonata No. 14 in C♯ minor "Quasi una fantasia", Op. 27, No. 2, by Ludwig van Beethoven, popularly known as the Moonlight Sonata , was completed in 1801. It is dedicated to his pupil, 17-year-old Countess Giulietta Guicciardi, with whom Beethoven was, or had been, in love. It is one of Beethoven's most popular piano sonatas, as well as one of his most famous compositions for the piano.
Guitar Demo
The sonata consists of three movements. 1) Adagio sostenuto 2) Allegretto 3) Presto agitato
Adagio sostenuto. The first movement, in C♯ minor, is written in an approximate truncated sonata form. The movement opens with an octave in the left hand and a triplet figuration in the right. A melody that Hector Berlioz called a "lamentation", is played against an accompanying ostinato triplet rhythm. The movement is played pianissimo or "very quietly", and the loudest it gets is mezzo forte or "moderately loud".
Romantic Era. 69 Measures. 9 Pages. Key of A minor (originally in C# minor). 4/4 Time Signature. Adagio sostenuto. Suspend the Notes! Triplets. Patience is Key!
Guitar Prop Playthrough