Minuet in G Major by Fernando Sor (c. 1810)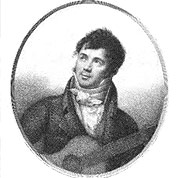 Fernando Sor was a Spanish classical guitarist and composer. He is best known for his guitar compositions, but he also composed music for opera and ballet, earning acclaim for his ballet titled Cendrillon. Sor's works for guitar range from pieces for advanced players, such as Variations on a Theme of Mozart, to beginner pieces.



Notes
This delightful Minuet is one of the few guitar works of Sor that was never assigned an opus number. The Minuet actually exists in more than one version. The version is taken from a set of four minuets of Sor published in the short-lived Parisian periodical Journal de musique etrangere pour la guitar ou lyre ("Journal of Foreigner" to the French.) These minuets represent the very first compositions until after he arrived in Paris in 1813.
The Minuet suggests a lively tempo, so some of the passages (especially the passages in parallel thirds, as in the first measure) will require extra practice in order to sound smooth and legato. Isolate these passages and practice them extremely slowly, put of tempo, with the left-hand thumb off the neck, with liberal amounts of vibrato and above all with minimal tension in the body. After a few days the difficult passages will seem to play themselves. Although this piece lends itself very well to dynamic extremes, overall maintain a strong dynamic level, making sure the difficult passage sound bold yet fluid
Classical Era. 24 Measures. 2 Pages. Time Signature 3/4. Key of G.