Milonga (Uruguay)-24 Piezas Sudamericanas by Jorge Cardoso (1945-)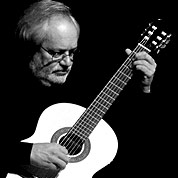 Jorge Cardoso is a classical guitarist and medical doctor born in Posadas, Argentina in 1949. Jorge Cardoso has composed over 350 works: suites and pieces for solo guitar; duets, trio and quartets; string quartet; quintets; concerts (for two guitars and strings, for guitar and orchestra); an orchestra for strings and songs for voice and guitar..



Notes
A Milonga is a lyrical minstrel song-songs with lyrics that tells stories about real or imaginary historical events. Contrapunto or counterpoint means music in the form of a musicial duel (question & answer). Over time, dance steps and other musical influences were added to the Milonga, eventually giving rise to the Tango. Jorge Cardoso wrote many guitar duets for various instruments. Milonga (uruguay) is a duet for the piano and guitar. Set at a lively 2/4 tempo, often including syncopated musical improvisation.
Modern. 57 Measures. 5 Pages. Time Signature 2/4.
Guitar Demo by Jorge Cardoso
Guitar Pro Playthrough