Melody in C Major by Matteo Carcassi (1792 – 1853)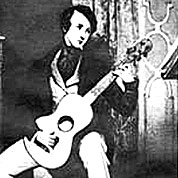 Matteo Carcassi was a famous Italian guitarist and composer. Carcassi began with the piano, but learned guitar when still a child. He quickly gained a reputation as a virtuoso concert guitarist. Carcassi wrote a method for guitar (op. 59) that remains valuable, relevant and interesting, blending technical skills and brilliant romantic music.



Notes
In Melody in C Major, you will explore where the c major notes/chords/scale on the guitar neck. You will also improve both your left and right techniques at the same time. For the left hand, you will be covering many chords including half barre and full barre chords. For the right, there are several plucking patterns introduced. pimimimi and piaiaiai being the main ones. The ending concludes with an interplay between these 2 patterns. Make sure you save enough energy to conclude the piece in tempo.
It is crucial to suspend the bass note. 1,3 of each measure. Let the notes ring. Start slow. It's not about speed but clarity of notes. Melody in C has no slides/pull off/hammer ons but there are some barre chords to deal with.
Bar[10]-[11] end of bar 10 at fret 7. be prepared to jump to 3 fret in position and in time to sound the bass note(F#).
Bar[2]&[22] These 2 bars are identical in tone. I included 2 different positions to play this measure.
Bar[28] The last stretch. Start with open C chord. I find this section pretty tricky in terms of right hand pattern switches. ( :