March of the wooden soldier by Fernando Sor
Grade 2– Early Intermediate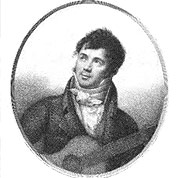 Fernando Sor was a Spanish classical guitarist and composer. He is best known for his guitar compositions, but he also composed music for opera and ballet, earning acclaim for his ballet titled Cendrillon. Sor's works for guitar range from pieces for advanced players, such as Variations on a Theme of Mozart, to beginner pieces.



Notes
32 Bars. No Barre Chords. No Repeats and plenty of open strings. March of the wooden soldier is not a hard song to play. You will also learn the basics of right hand plucking (one string, one finger) using pima.
Most historians often refer to the first half of the 19th century as "the golden age of the guitar". During this time the guitar enjoyed an unprecedented popularity. Among the most-praised musicians of the golden age of the guitar was Fernando Sor. Audience assembled in masses to see this great guitarist dubbed the Beethoven of the guitar.