Mama Son De La Loma by Miguel Matamoros (1894-1971)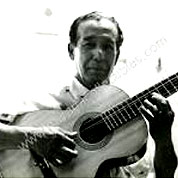 The Trio Matamoros were one of the most popular Cuban trova groups. Formed in 1925 by Miguel Matamoros , Rafael Cueto and Siro Rodriguez. All three were singers and composers. The Trio Matamoros played boleros and son. They toured all Latin America and Europe and recorded in New York.


Notes
Latin. Time Signature 4/4. Key of A. 78 measures. 7 pages.