Magoado by Dilermando Reis (1916-1977)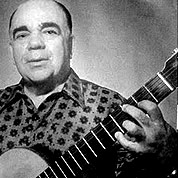 Dilermando Reis was a Brazilian musician, composer, acoustic guitarist and music teacher. He once had Juscelino Kubitschek, the former Brazilian president, as a student.




Notes
Bossa/Salsa. 2/4 Time Signature. 25 measures. 3 pages. Key of Am/A.
Bar 18-21: 2 guitars (see pdf note (@ beginning of A major Key change). I have included second guitar part in the guitar pro file and midi but not in the tab pdf; keeping this piece as a solo. I also followed the fingering of Leandro Brighi Sanches' (video below) for the first Am part. See pdf note for fingering alternative.
Guitar Demo (Leandro Brighi Sanches)
Guitar Pro Playthrough