Madrecita (Little Mother)by Agustin Barrios (1885-1944)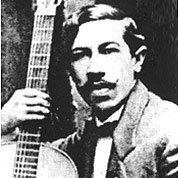 Barrios's compositions can be divided into three basic categories: folkloric, imitative and religious. Barrios paid tribute to the music and people of his native land by composing pieces modeled after folk songs from South America and Central America. Imitating the compositional style and techniques of the Baroque and Romantic periods was another side to his craftsmanship.




Notes
Late Romantic. 32 Measures. 3 Pages. Time Signature 3/4 Key E/E Minor. Tempo di minuetto. Arranged by Stefan Apke.
Guitar Demo (Cesar Amaro)
Guitar Pro Playthrough


The guitarist Luis Pasquet (1882-1940) from Salto (Uruguay) was a close friend of Barrios. In 1925 Barrios lodged at his friend's house. Meanwhile he composed pieces like Luisito and Madrecita. The former he dedicated to his friend and it received the name of his son Luis ("Luisito") Pasquet (1917-2013). Madrecita was dedicated to Luis junior. Barrios foresaw that Luisito will be a good musician someday ("futuro gran músico"): later he was e.g. a composer and conductor; he lived in Lahti (Finland) since 1974; for instance, he founded the quintet "The Davenport Five", that also played together with jazz-giants like Louis Armstrong and Ella Fitzgerald. Madrecita (diminishment of mother/madre, something like "little mother") is a piece for little Luisito, to remember his mother, who died not long ago.