Candles by Maria Linnemann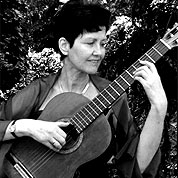 Maria Linnemann was born in 1947 in Amsterdam, Holland, but grew up in England. She developed an early love for English, Scottish and Irish folklore. She studied conducting, piano and violin at the Royal Academy of Music in London. Maria´s travels have taken her around the globe, inspiring over 500 compositions for the guitar.




Notes
20th century. Taken from Soledad. 4/4 Time Signature. Key of D. Drop D. 4 pages. 36 measures.
Guitar Demo (Irina Suchkova)
Guitar Pro Playthrough