Lies by Kaki King (1979-)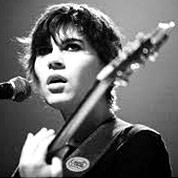 Kaki King is an American guitarist and composer. King is known for her percussive and jazz-tinged melodies, energetic live shows, use of multiple tunings on acoustic and lap steel guitar, and her diverse range in different genres. King's fingerstyle playing combines fret-tapping with slap bass techniques, using the guitar for percussive beats, as well as sound layering and looping.



Notes
20th century. Fingerstyle. Acoustic. 45 Measures. 6 Pages. Time Signature 4/4. Tuning. Standard. Capo 2. Key of G.