Lacrimosa, Requiem in D minor, K. 626 by Wolfgang Amadeus Mozart (1756-1791)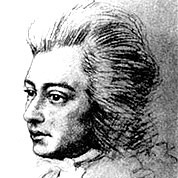 Wolfgang Amadeus Mozart was a prolific and influential composer of the Classical era. He composed over 600 works, many acknowledged as pinnacles of symphonic, concertante, chamber, piano, operatic, and choral music. He is among the most timeless classical composers.



Notes
The Requiem Mass in D minor (K. 626) by Wolfgang Amadeus Mozart was composed in Vienna in 1791 and left unfinished at the composer's death on December 5. A completion dated 1792 by Franz Xaver Süssmayr was delivered to Count Franz von Walsegg, who had anonymously commissioned the piece for a Requiem Mass to commemorate the February 14 anniversary of his wife's death.
Classical. Requiem . Dropped D. 1-E, 2-B, 3-G, 4-D, 5-A, 6-D. Some Tremolo. Moderate tempo, 6/4 time signature, 9 pages, 40 bars. Arranged by Emre Sabuncuoğlu
Guitar Demo
Guitar Pro Playthrough