La donna e mobile by Giuseppe Verdi (1813-1901)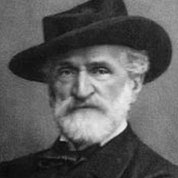 Giuseppe Fortunino Francesco Verdi was an Italian Romantic composer, mainly of opera. He was one of the most influential composers of the 19th century. His works are frequently performed in opera houses throughout the world and, transcending the boundaries of the genre.



Notes
Late Romantic. from the Opera Rigoletto. Key of D. 3/8 Time Signature. 3 pages. 32 Measures. Con Brio.