La Campanella by Franz Liszt (1811-1886)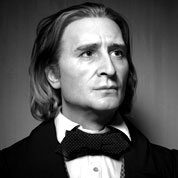 Franz Liszt was a 19th-century Hungarian composer, pianist, conductor, and teacher. Liszt became renowned in Europe during the nineteenth century for his virtuosic skill as a pianist. He was said by his contemporaries to have been the most technically advanced pianist of his age. In the 1840s he was considered by some to be perhaps the greatest pianist of all time. He was also a well-known composer, piano teacher, and conductor. He was a benefactor to other composers, including Richard Wagner, Hector Berlioz, Camille Saint-Saëns, Edvard Grieg and Alexander Borodin.



Notes
Romantic. 143 Measures. 18 Pages. Time Signature 6/8.