Hungarian Rhapsody No 2 by Franz Liszt (1811-1886)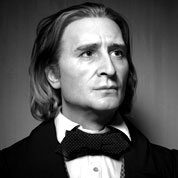 Franz Liszt was a 19th-century Hungarian composer, pianist, conductor, and teacher. Liszt became renowned in Europe during the nineteenth century for his virtuosic skill as a pianist. He was said by his contemporaries to have been the most technically advanced pianist of his age. In the 1840s he was considered by some to be perhaps the greatest pianist of all time. He was also a well-known composer, piano teacher, and conductor. He was a benefactor to other composers, including Richard Wagner, Hector Berlioz, Camille Saint-Saëns, Edvard Grieg and Alexander Borodin.



Notes
Romantic. 453 Measures. 22 Pages. Time Signature 2/4.
The Hungarian-born composer and pianist Franz Liszt was strongly influenced by the music heard in his youth, particularly Hungarian folk music, with its unique gypsy scale, rhythmic spontaneity and direct, seductive expression. These elements would eventually play a significant role in Liszt's compositions. Although this prolific composer's works are highly varied in style, a relatively large part of his output is nationalistic in character, the Hungarian Rhapsodies being an ideal example.
Guitar Pro Playtrhough