La Barrosa by Paco de Lucía (1947-)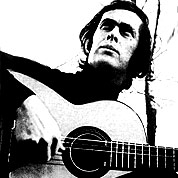 Paco de Lucía is a Spanish virtuoso flamenco guitarist and composer. He is considered by many to be one of the finest guitarists in the world and the greatest guitarist of the flamenco genre. He is a leading proponent of the Modern Flamenco style, and is one of the very few flamenco guitarists who has also successfully crossed over into other genres of music such as classical and jazz.

Notes
Flamenco. Alain Faucher Transcription in tab only. Alegrias. Lp Siroco. A different tab version can be found here: la barrosa tab I do not have the original score (notes) to this piece and i find the pdf hard to read. Flamenco is not easy, i wouldn't want to guess the notes! I have uploaded the pdf, at least something for now. I will update this post as soon as i have the original sheet music.