Jorge do Fusa by Garoto (Anibal Augusto Sardinha) (1915-1955)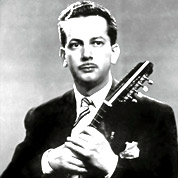 Garoto (real name Anibal Augusto Sardinha) started young with the banjo. At the age of 15, Garoto recorded his first solo record with his own compositions. At the age of 18, he received lessons in classical guitar from Attilio Bernardini. Despite his early death at the age of 39, he had a great influence on the development of Brazilian music.




Notes
20th Century. Choro. Key of D/D minor. 2/4 Time Signature. 4 pages. 41 measures. Fingering by Edson Lopes.
Guitar Demo (Douglas Lora)
Guitar Pro Walkthru