Ich Klag Den Tag by Hans Neusidler (1508-1563)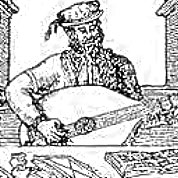 Hans Neusidler was one of the leading figures in the development of 16th cnetury German Lute music. He achieved considerable success not only as a performer and composer, but also as a lute maker and teacher. His sons, Melchior and Conrad (he had 13 children altogether), were also prominent lutenists and composers in their own right.


Notes
Renaissance Era. 21 Measure. Key of D. Capo fret 2. 1 barre chord. easy guitar piece. 4/4 Time Signature.