Grand Waltz (Grand Vals) by Francisco Tarrega (1852-1909)
Grade 4 Late Intermediate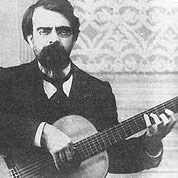 Tárrega is considered to have laid the foundations for 20th century classical guitar and for increasing interest in the guitar as a recital instrument. Tárrega preferred small intimate performances over the concert stage. Some believe this was because he played without the nails needed for volume. Others say this was related to his childhood trauma.



Notes
Tarrega actually wrote the Nokia ringtone jingle as heard in this song. In Grand Waltz, you will play along the entire neck. You will also play certain parts with the melody in a fixed barred position for multiple measures. Be sure to hold double notes suspension for a full measure (bass/treble). A waltz is in triple time and there are 4 parts to this piece-each offering their own challenge. Finally and best of all you will get to play the famous Nokia Ring Tone.
Guitar Demo
There are 4 parts to this song. Each Part played twice in this order (A-BB-CC-DD-A).
Part A
Double Note suspension. Longest Part
Bar[4]-[11] Play the melody while holding the barred chords for 8 straight measures.
Bar[14]-[17] Nokia ring tone (For those who remember). Ends with a harmonic. Lightly touch the string and plucK (bell like sound).
Part B
Pull offs and hammer ons. Chord slide. Hardest part
Bar[37] Barred chord pull off is a stretch. Make sure you hold the bass note at 9th fret (after the slide) while stretching your pinky to the 14th fret (pull off).
Bar[44]-[45] Chord slide. keep your 3 fingers locked and slide the chord to different frets.
Part C
Double note suspension.
Bar[50]-[60] Play the melody while holding the barred chords for 10 straight measures. Painful to wrist at first.
Part D
Easiest part.
Bar[70]-[71] 9th to 2nd fret (barred chords) jump from right to left.
Play the 4 parts separately until you have reached fluidity. Work on each part and piece them together at the end. Loop each part mulitple times.
Guitar Pro Playthrough