Rossiniana No. 1 Opus 119 (Allegro Vivace) by Mauro Giuliani (1781-1829)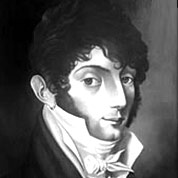 Mauro Giuliani was an italian guitarist and composer, and is considered by many to be one of the leading guitarist virtuosos of the early nineteenth century. He was a prolific composer, writing over 150 pieces for the guitar, as well as many chamber compositions for the violin, voice, flute, piano, and chamber orchestra.




Notes
Classical. 372 Measures. 35 Pages. Time Signature varies. Key varies.
Mauro Giuliani's "Rossiniane" are a virtuoso variations cycle for the guitar based on themes by Rossini. One of the unique features of these Galant Classical compositions is that they were jointly composed by Giuliani, Paganini (who also mastered the guitar), and Rossini himself at Rossini's villa. Mauro Giuliani alone is formally credited with composing the six sets of jointly composed variations for guitar on themes by Rossini, Opp. 119–124 (c. 1820–1828). Each set was called "Rossiniana", and collectively they are called "Rossiniane". This was the first known tribute by one composer to another using a title with the ending -ana.
Guitar Demo (Mateusz Kowalski)
Guitar Pro Playthrough