Giga (Three Airs of Court) by Guido Santorsola (1904-1994)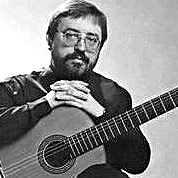 Guido Santórsola was born and raised in Brazil before moving to Uruguay. His guitar music falls into several categories: works that pay homage to or parody older styles and forms (like the Three Air of Court, the Concertino for Two Guitars, and Suíte Antiga). His compositions, which include guitar music and several concertos, use a mixture of Brazilian folk music and modernist techniques.


Notes
20th century. 123 Measures. 10 Pages. Time Signature 6/8. Key of A. part 3 finale.