German Dance (WoO42) by Ludwig van Beethoven (1770-1827)
Grade 3– Intermediate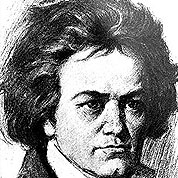 Ludwig van Beethoven was a German composer and pianist. The crucial figure in the transition between the Classical and Romantic eras in Western art music, he remains one of the most famous and influential composers of all time.



Notes
"German Dance" by Ludwig van Beethoven and it's a song with a jumpy, lively feel. A short piece that's not too difficult to play. This work is written for the piano and later adapted for the guitar. Somehow for me, the piano works better. Nevertheless, "German Dance" is a good practice for me and I would like to share it with you.
AABA which means play part A twice, then play B once, then conclude with A once. The hardest part is part B, good news is that it is only played once. There are couple of full barre chords and a trio of half barre chords played rapidly towards end of B. Playing the back beat note while holding these chords is essential. Bar 5. Low E string, 2nd Fret (F#) is played with thumb. You can substitute with index finger if you feel uncomfortable with curling your thumb over the neck to hold the F# note. I learnt this technique from play electric guitar with a thinner neck. It carried on to my classical playing. I find it easier to play this way, you don't have to follow me as everyone got their own style.