Fur Elise (Intro)– Ludwig van Beethoven (1170-1827)
Grade 3 Intermediate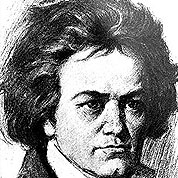 Ludwig van Beethoven was a German composer and pianist. The crucial figure in the transition between the Classical and Romantic eras in Western art music, he remains one of the most famous and influential composers of all time.



Notes
Fur Elise is probably Ludwig's most famous piece besides MoonLight Sonata. Written in the romantic era from the Bagatelle in A minor for solo piano. Here's the piano piece transcribed for the guitar. Fun Fact. "Fur Elise" translates to "For Elise", however it is uncertain who "Elise" was. Some scholars have suggested she was Beethoven's fifth mistress.
No special technique here. This song is slow, mellow and-like many Beethoven pieces-is charged with emotions. Keeps the notes flowing and not disjointed then you should be able to play this track in no time. When you master the intro of "Fur Elise", you might want to take on the rest of the song. I do not cover this but here is the free tab on www.classtab.org. The entire song is actually much longer but don't let that discourage you. Like most things in life, no pain, no gain.
For the Entire piece click here
This piece was taken from Classical For The Guitar by Jerry Synder.