Fifth Symphony by Ludwig van Beethoven (1770-1827)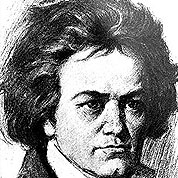 Ludwig van Beethoven was a German composer and pianist. The crucial figure in the transition between the Classical and Romantic eras in Western art music, he remains one of the most famous and influential composers of all time.



Notes
The Symphony No. 5 in C minor, Op. 67, was written by Ludwig van Beethoven in 1804–08. This symphony is one of the most popular and best-known compositions in all of classical music, and one of the most often played symphonies. It comprises four movements: an opening sonata, an andante, and a fast scherzo which leads attacca to the finale. First performed in Vienna's Theater an der Wien in 1808, the work achieved its prodigious reputation soon afterwards. E. T. A. Hoffmann described the symphony as "one of the most important works of the time".
Romantic Era. 123 Measures. 5 Pages. Time Signature 2/4.