Study No 15 (Estudio Sencillos) by Leo Brouwer (1939)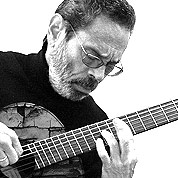 Juan Leovigildo Brouwer Mezquida is a Cuban composer, conductor and guitarist. He is the grandson of Cuban composer Ernestina Lecuona Casado. Brouwer is best known for his performances and guitar compositions of modern music.



Notes
Study 15. 65 Measures. 4 Pages. Time Signature 3/4. Sarabande. key of G.