Etude No 19 Metodo De Guitarra (Primera Parte) by Dionisio Aguado (1784 – 1849)
Grade 2 Early Intermediate
Exercise (pimi)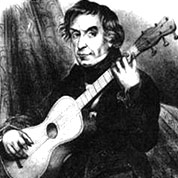 Dionisio Aguado was a Spanish classical guitarist and composer. Born in Madrid, he studied with Miguel Garcia. In 1825, Aguado visited Paris, where he met and became friends with lived with Fernando Sor. Aguado's major work Escuela de Guitarra was a guitar tutorial published in 1825. Dionisio Aguado has attained lasting fame through his method for guitar, which is still in print today.



Notes
Metodo De Guitarra (Primera Parte) 4/4 Time Signature. 16 Bars. 2 pages. Key of A minor.
Make sure you put special emphasis on the bass-played with your thumb. There are no barred chords which makes this song fairly easy to play. Play at moderate speed. Try "accenting" the bass note. This means playing all the thumb notes a little harder or louder than the rest. Ideally you would want to keep the bass lingering throughout the entire song.
Guitar Pro Playthrough