Etude No 1 in Em – (Etudes des Arpeges) by Heitor Villa-Lobos (1887-1959)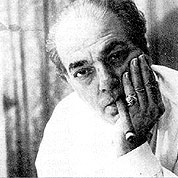 Heitor Villa-Lobos was a Brazilian composer, described as "the single most significant creative figure in 20th-century Brazilian art music". Villa-Lobos has become the best-known and most significant Latin American composer. His music was influenced by both Brazilian folk music and by stylistic elements from the European classical tradition.



Notes
Étude No. 1 is an arpeggio study that is predominantly focused on a cross-string right-hand technique. 1 of 12 etudes. Modern. 34 Measures. 3 Pages. Time Signature 4/4. Key of E minor. Exercise pipi-pmia-maim-pipi.16 notes pattern.
Guitar Demo by Andres Segovia
Technically demanding for the right hand. How to go fast? Work in groups. ie break into 4s. (pipi-pmia-maim-pipi). If you are like me, "a" is the weakest. Loop pmia-maim. Try accenting "a" finger. pmiA-mAim. I prefer to play this etude PiPi-PmiA-mAim-PiPi. Accent on P and A.
Suspend bass. Dotted Half Note (Minim) or 3/4 of bar
Repeat each measure twice except [23-24] and the last 3 measures.
Bar[5]-[6] Watch left fingering for Em(1st inversion) to E(1st inversion)
Bar[12]-[22] Half steps down for each measure
Bar[29]-[30] Repeat these 2 bars twice. Chords change every half measure
Bar[23]-[24] 9 consecutive pull offs. Hard. I added alternative below
Bar[31]-[32] To play harmonics quickly between fret12 and fret 5.
Spread your hand and lightly barre bottom 3 strings with pinky and index
Guitar Pro Playthrough